THE 2023 TWO STEP TOUR IS COMING
Take Your Dancing To The Next Level
To put it in the most simple terms, you will learn more in 1 day than you have in the last year.
The Two Step Tour workshops aren't just about teaching you some new moves. By the time you finish the event, you'll have a completely new understanding of how country dancing actually works. Everything you learn from this point forward will just happen better and faster!
SCHEDULE OF TOUR DATES/LOCATIONS
25323 Interstate 45
The Woodlands, TX
515 N Stapley Dr
Mesa, AZ 85203
27314 Jefferson Ave
Temecula, CA 92590
To be announced once
space required is determined
To be announced once
space required is determined
WORKSHOP SCHEDULE OF EVENTS
Have you taken lessons where they started by teaching you "the basic step" and then progressed to "steps 2, 3, 4" in some arbitrary school syllabus or curriculum? Yeah? How'd that work out for you? That's called the vertical approach and it set you up for failure. Discover a little known method that will change things forever.
TWO STEP SECRETS REVEALED
Learn the little known secrets to dancing Two Step that will make everything you'll learn from this point forward 10X easier! This class is perfect for new dancers (even if you have 2 left feet) OR if you've danced before but want to learn a weird, but simple process to make learning even the most advanced Two Step moves EASY!
WEST COAST SWING: WHIPS EQUIPPED
Whips are a core pattern in West Coast Swing and there are almost an infinite number of whip variations. You COULD spend the next 20 years trying to learn them all ... OR you could take this one class to learn a simple trick that has been said to be like "flipping on a light switch" to unlimited variations. For real.
SPIN HER 'TIL THE FLOOR SMOKES
There's no way around it. You're going to need to be comfortable turning. But how do you do those impressive crisp turns while keeping your balance (and without getting so dizzy?). Even if you've struggled with spinning before, you will leave this class knowing exactly what you need to do to make your turns amazing!
SAYING THE QUIET PARTS OUT LOUD
OK, so you've worked on your turns, connection, posture, footwork and more. You've taken classes, private lessons, and watched videos. You practice and learn all the new moves... so why do other dancers seem to still get the recognition or place higher in competitions? Maybe there's some stuff that your teacher won't tell you.
"I WANNA GO FAST" ~ Ricky Bobby
Picture this... Two couples are on the dance floor at the same time. They are both dancing the same dance, to the same song, and doing the same move at the same time. How can it be possible that one couple looks like they're are dancing/turning soooo much faster than the other? I mean, are they really? Is that a thing?
45 MINUTES OF STRAIGHT AWESOMENESS
You're going to want to take video (or at least take notes). In this class, Anthony and Rose will have 45 straight minutes of "SPEED ROUND". They will go through their best moves one after another after another with lightning speed. You'll probably learn more cool new moves in this 1 class than you will in the next 20. Don't blink.
MINI PRIVATE DANCE LESSONS
Once you've learned all of the cool stuff in the workshops, you'll be able to work with Anthony and Rose privately for Mini Private Lessons to cover any questions you may have about the material covered... or anything else you may need help with! You can ask any questions you may have and get answers privately.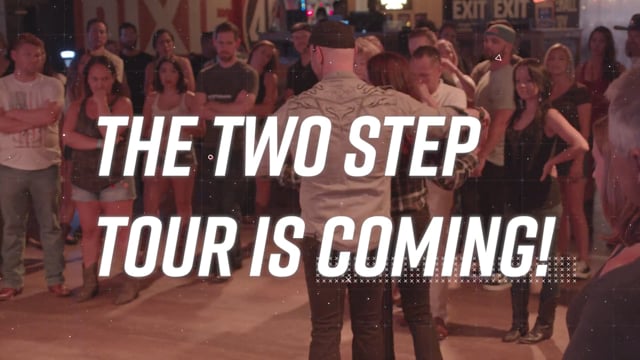 Attendance at these one time bootcamps is limited and WILL SELL OUT, so get your tickets now!
All classes will be taught live and in person by Anthony and Rose of X Dance.
TICKETS: $97/Single, $167/Couple
What can you expect the Two Step Tour to be like? In a nutshell, it's like nothing you've ever experienced before.
But don't just take our word for it. Watch this video to hear from students who have attended Anthony and Rose's Bootcamps: