Learn how to dance online | How to dance West Coast Swing, Two Step, Country Swing dance lessons online
Want to see if X Dance is right for you? Try it FREE for 7 days and decide for yourself. If you don't agree that this is simply the BEST virtual dance training platform in the world, cancel at any time within 7 days and you won't be charged anything.
We're so excited that you're here!
We're Anthony and Rose. We're professional dancers, instructors, owners of 2 dance studios in Texas, parents of 2 beautiful children, husband and wife, and creators of The World's First Interactive Virtual Dance Studio.
Now that you have arrived, our first piece of advice is to
Forget Everything You Think You Know.
X Dance is NOT just another dance video website. You are experiencing something new that, until now, has never existed before.
Imagine becoming a member of a world class dance studio with regular live dance classes, personalized one-on-one private lessons, a thriving dance community, and interactive classes available 24/7/365.
Now imagine that this dance studio is as close as the mobile phone in your back pocket.
It's like having your own dance studio at home.
No two students learn the same way. X Dance is designed to simulate private one-on-one private instruction. With X Dance, each lesson will be completely customized to YOU.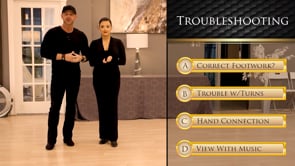 Learn How To Dance The Most Popular Styles
Everything from Country, Swing, Ballroom, Latin and more with new lessons added every month!
Take Your Dance Studio With You.
Learn how to dance anywhere, anytime, on an unlimited number of devices.
X Dance does everything a brick and mortar dance studio does and MORE (without the commute).
Take One-On-One Private lessons, Live Group Classes, Interactive Virtual Lessons, and Dance Videos,  24/7/365.
Learn from any internet-connected device with a browser, including: Personal Computers, Smart TVs, Smartphones, Tablets, and more... from anywhere in the world.
Gordie B.
"Anthony and Rose, I have said this before but I want to say it again you two are the best dance instructors there is as far as my wife and I are concerned. We keep bragging about you to the people in our dance group and others that are not. My wife is 73 and I will be 80 in August. Some moves take a bit longer to catch on for us but we are persistent and determined to learn the moves."
Susan H.
"Thanks to you, my husband and I learned two-step while in quarantine. My husband was apprehensive, but gave in. We live in New York and dancing the two-step in Dallas is on my bucket list. So I found your videos and the rest is history. Now we are dancing every day in our basement. Thank you Anthony and Rose. Your videos are the best!!!!!
Richard C.
"Sue, my wife, and I make time to dance together just about every day for an hour. A lot of the steps that we do we learn from Anthony and Rose. They have a wonderful program that's easy to follow. They are two of the best dance teachers that I know. Take a chance with them. You won't be sorry."
Adia N.
"I love X Dance and everything it offers! It has been incredible to learn fro Anthony and Rose. They don't just teach steps. They teach the WHY which I, as and instructor, think is is important. Truly, thank you guys for an amazing product!"
Cory E.
"Hey guys!! I just wanted to let you know that you have been an amazing resource for me. I have been a Ballroom and Latin guy for 20 years now and have recently been teaching my students some country. I've truly indulged myself into your videos and have taken away a plethora of learning from your quality instruction. Fun to watch too! Thank you!"
Dakota B.
"I have to say that this is the best virtual training platform that I have seen. Thank you for the hard work that went into making those videos. The detail you guys go into is really helpful. I also think the horizontal approach is awesome."
We'll never spam or share your info.